History
Ceroc dates back to France in World War II, when the American GIs showed the French how to swing and jitterbug. With the sixties, dance was inspired by the Twist, the Watusi and the Mashed Potato.
In the eighties, Ceroc spread world wide.  Now people in the USA, UK, Europe, New Zealand and Australia enjoy dancing Ceroc; with venues in most major cities.
Influenced by ballroom, Latin American, and Rock 'n' Roll, Ceroc has become an addictive dance style with something for everyone!
Invitation to dance
Do you want to learn to dance, meet new people, enjoy great music and have loads of fun? Then you've come to the right place! Ceroc Club Brisbane teaches a dance style that is a fusion of  ballroom and Latin dance styles that's easy and fun to learn.
All types of people come together to dance at Ceroc Club Brisbane. Dancing is a great way to socialise for singles and couples of all ages – and you can dance to most genres of music.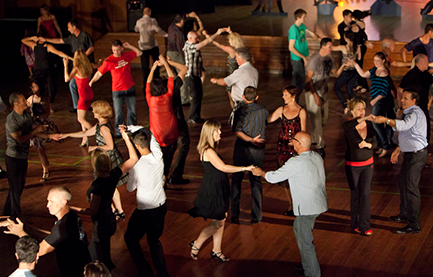 To teach and promote Ceroc dancing within a framework of friendship and social inclusion.
We're Australia's longest running Ceroc organisation for a reason! Our club runs classes each week, and hosts plenty of events throughout the year.  New members are always made to feel welcome no matter what their level of experience.
So come along, meet new people, keep fit, and have fun!
No need to book, no partner required, just turn up.
Our club is always looking for experienced dancers to join our teaching team. If interested, please contact us.
Note: Ceroc Club Brisbane was previously known as the LeRoc Dance Society.